Truex, Incorporated Celebrates 40th Anniversary
---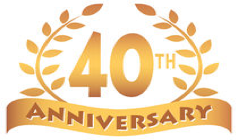 10/24/2016
-Truex, Incorporated recently celebrated our 40th Anniversary as a manufacturer of internally expanded garden hose couplings, low pressure hose ferrules and custom deep drawn stampings. Truex offers parts made from brass, steel, various stainless steel alloys and aluminum.

Truex was started in 1976 to supply garden hose couplings to OEM manufacturers of premium garden hoses. Truex continues to supply garden hose couplings and smooth ferrules to hose manufacturers, assemblers and distributors, both large and small.

Truex stocks a variety of industry standard brass ferrules and prides itself on long term customer relationships and partnerships made possible by providing consistent service and product quality.

A dinner party for all was held for all employees and retirees, many of whom have more than twenty years of experience. Over 70 people attended.

Published by: Jack Yando