Ferrules
Ferrules are critical for connecting and sealing hoses and tubing in a wide variety of types of businesses. Each week, Truex manufacturers millions of these important pieces for countless clients around the world and right here in the United States. Customers use the parts for a range of industries, including lawn and garden, hardware, automotive, marine, RV, fire suppression, compressed gas, plumbing, welding, electronic, beverage, furniture, farm, lighting, and other related industries. The parts made by the company can be manufactured to fit in both water and air hoses, hydraulic hoses, gas hoses, fuel hoses, and similar specialty hoses to create the airtight and watertight seal needed for the hose or tubing to function properly. Each ferrule produced by Truex is made to the highest quality standards the way customers have come to trust from one of the nation's largest suppliers.
Truex offers a complete line of ferrules produced using several different types of metals and alloys. Customers have a choice of selecting brass, aluminum, stainless steel, and plated steel when browsing for the ferrule they need. Each of these materials offers benefits and drawbacks, which customers should review to help them make the perfect selection based upon their own needs.
We manufacture custom ferrules in stainless steel, steel, plated steel, aluminum, brass or copper.

Tolerances:



| | |
| --- | --- |
| Inner diameter | +/- .005 |
| Length | +/- .010 |
| Pierce diameter | +/- .002 |
| Material thickness | +/- .002 |

Brass is one of the more common materials used to create ferrules. The brass ferrules produced by Truex are made using 268 alloy brass along with lacquer to keep the final product looking professional and without tarnish. This type of brass is described as having excellent strength, being corrosion resistant, and being very formable; all excellent characteristics for a ferrule. The ferrules are annealed to make them easier to crimp. It is important to note that it is only in brass that customers can find ribbed ferrules, soakers, or oval ferrules in the catalog.
Within this category Truex produces:
Brass Oval

Brass Ribbed

Brass Smooth

---
Aluminum is another popular material for the manufacturing of ferrules. It offers the benefit of being resistant to corrosion, which makes it a good choice for those working with materials known to cause this type of damage. Aluminum is also known for being lightweight and for being quite flexible, which are important features of ferrules and can be advantageous for customers in particular industries. Pure aluminum is typically mixed with other metals, such as copper manganese, or zinc to help increase the strength of the material. When creating aluminum ferrules, Truex uses .024 gauge aluminum, which offers a strong but flexible ferrule that works well for many customers.

---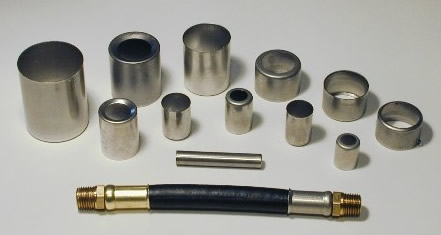 Stainless steel is another popular material for creating ferrules. Stainless steel is known for being corrosion and rust resistant when exposed to water, making it an excellent choice for many ferrule applications.
The stainless steel ferrule parts produced by Truex are made from 304 alloy stainless steel. It is known for being friendly for forming and welding, making it a great choice for ferrules. Each ferrule is also bright annealed to allow for ease of crimping. View our Catalog.


---
Ferrules play a critical role in nearly any industry. They are used for a range of purposes from connecting hose parts to connecting tubing to different types of machinery. From plumbing to RVs and automotive industries, Truex provides satisfied companies around the globe with the ferrules they need to keep their parts running.
Use the descriptions provided along with the catalog of parts to see what types of ferrules would work best for a particular project or industry. Truex offers custom ferrule quotes as well for customers who may be looking for something in particular.
If you don't see what you are looking for, please give us a call at
1-800-458-7839 or request a quote.
A Member of the: National Association of Hose and Accessories Distributors